After deriving great enjoyment from blasting out the title track at the recent
Unthanks weekend
, I resolved to look for this record, finding it in
Coda
, the folkie record shop in Edinburgh. Together with their sister Norma, the Watersons were big players in the 1960s folk revival, mostly known for unaccompanied singing of traditional tunes.
Bright Phoebus
however is different, being newly composed songs performed with instrumentation, sometimes very sparse and sometimes more lush. It is an odd beast and I can see why it might have disconcerted folk purists when it came out. Some of the songs sound very much like extrapolations of the folk canon, notably 'The Scarecrow' and 'Fine Horseman', but others go in very different directions. The album opens with the jaunty 'Rubber Band', in which Mike and others sings about their being the fictional Rubber Band, making this the folk equivalent of the opener to
Sergeant Pepper's Lonely Hearts Club Band
(a record released by the Beatles); this jaunty tune sounds very far removed from the world of silver tankards and people singing shanties with fingers in their ear. Likewise 'Magical Man', 'Shady Lady' (reverse engineered country) and the title track. 'Bright Phoebus' starts off with just guitar and Mike's voice, but then more voices and instruments come in, with both arrangements and composition leading this away from the uncontaminated stream of pure folk music. Going back to Beatles analogies, the track could the Watersons' 'Hey Jude' (analogy does not work if you dislike 'Hey Jude').
Anyway, this is a great record, with the juxtaposition of the folkie numbers and the brash uptempo tracks giving the album an exciting feeling of expectations being shattered. Long out of print it is great to see it recently re-issued by Domino, now basking in the reputation of a lost classic. Sadly Lal and Mike Waterson are no longer alive to see their record attract a new generation of admirers.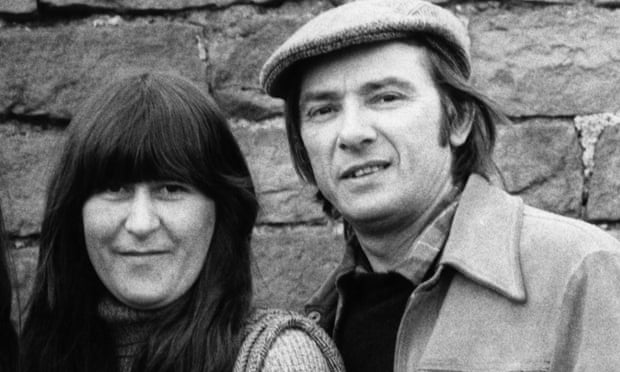 image sources:
Bright Phoebus
(Discogs)
Lal and Mike Waterson
(Guardian:
Bright Phoebus
review)